Course Objectives and Outcomes
The RYA Essential Navigation course is aimed at a wide audience, including anyone new to sailing, motor boating, fishing, diving, experienced dinghy or keelboat sailors.
Considering that people are short of time for leisure pursuits we have taken a new approach, aiming to give students an awareness and knowledge of basic navigation techniques and safety in just 16 hours and online.
This online course is the perfect stepping-stone to the more in-depth RYA Day Skipper shore-based course, or to courses on the water such as the Powerboat, Start Yachting or Competent Crew.
 Navigational charts & publications
Safety
Buoyage systems and rules of the road
Tidal awareness
Basic Navigation Techniques
Basic visual, electronic navigation, pilotage and passage planning
Basic weather forecasts
What Certificate Do I Get?
RYA certificate presented upon successful completion of your course.
To enable access to your online course we need to share some of your personal data with the RYA via your user profile in www.ryainteractive.org. This learning management website is hosted and maintained by a third party called Learning Pool, who will not use your personal information for any reason other than enabling your course.
Your name and email address will be entered on www.ryainteractive.org in order to create your user account. On your first access to the site, you will be asked to enter your address and date of birth. You will have access to the site for one year in order to complete your online course. During this period, your personal information will be held on the website by Learning Pool and be available to this training centre and the RYA for the purpose of managing your course.
Instructional support will be provided by this training centre if required.
On completion of your course, your name, email, date of birth and address will be transferred to the RYA's central database for the purpose of recording details of the course and any certification you gain as a result of it. This information allows the RYA to record your certification, to update any records they may already hold about you or your qualifications and to verify your certificate if required. After one year from the date of your enrolment on the course, your user account will be removed from www.ryainteractive.org.
What Do I Need To Do The Course?
All you need is internet access. A course pack with Charts, Plotter, Dividers, Handbook and course notes will be mailed out to you (Australia-wide) after you register. We can also send this internationally for an extra postage fee.
The course is completed 100% online, and takes around 16 hours. Access to the course is 12 months.
To keep growing your sailing skills we recommend the RYA Competent Crew as your next port of call.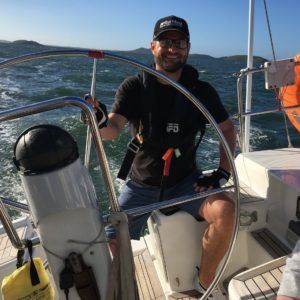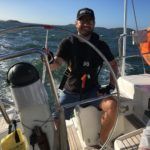 This course is for beginners and those who would like to become active crew members rather than just passengers. Experience living on board and really get to know the boat. Virtually all the course is hands on. You are the crew - without you the sails won't go up and the boat won't be steered
Bob course completed 5th March 2020
"..an excellent introduction that all new boat users should be encouraged to complete. It gives you the confidence to get the most out of your boat, whilst being aware of the risks."
Misty course completed 17th August 2018
"..to be recommended for newcomers, but also very useful for those who want to do more than pull ropes and tie on fenders."
Lachlan course completed 16th August 2019
"I would definitely recommend it to new boat owners or anyone keen to get into boating."