RYA Competent Crew - Yacht or Catamaran
The RYA Competent Crew course introduces the complete beginner to cruising. You will learn about personal safety, seamanship and helmsmanship to the level required to be a useful member of the crew of a cruising yacht.
COURSE DETAILS
Course Duration: 5 Days, or 3 x 2-day weekends
Start and Finish Times: Start at 9:30am on the first day, and finish by 4:30pm on the last day of the course.
Minimum Age: The recommended minimum age for this course is 12-years
Course Format: On the water, on either a yacht or catamaran.
Prerequisites: None. Although we do recommend completing the RYA Essentials – Navigation and Seamanship (online) course prior to this course.
By the end of the RYA Competent Crew course the successful Competent Crew will have sufficient knowledge and skill to be a useful and able crew member, and will be issued with the RYA Competent Crew certificate of course completion.
The RYA Competent Crew course is the perfect learn to sail course aimed for complete beginners who want to aim for more than the two day RYA Start Yachting course. It's best for those who have spent very limited time or no time on sailing vessels, but want to be able to go sailing as a competent member of the crew onboard.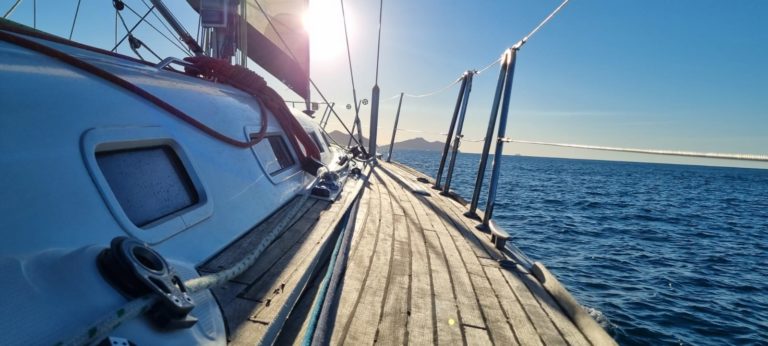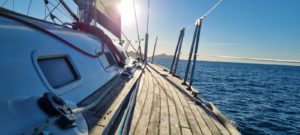 The course is planned to give you as much fun and enjoyment as possible, as you adventure and learn the fundamentals of cruising yachts. While you cruise you will learn about safety at sea and will be given lots of opportunities to master the seamanship skills of steering, changing sails, reefing and tying the essential knots as well as whats is like to live on a yacht for an extended period.
After completing the RYA Competent Crew learn to sail course you will have the knowledge, skills, practice and confidence needed to go and be a competent member of the crew.
Find a race crew at your local club, go cruising with friends and be able to assist onboard, or use this as the stepping stone towards the RYA Day Skipper qualification to gain the confidence and ability to skipper your own vessel, or to obtain your international certificate of competence.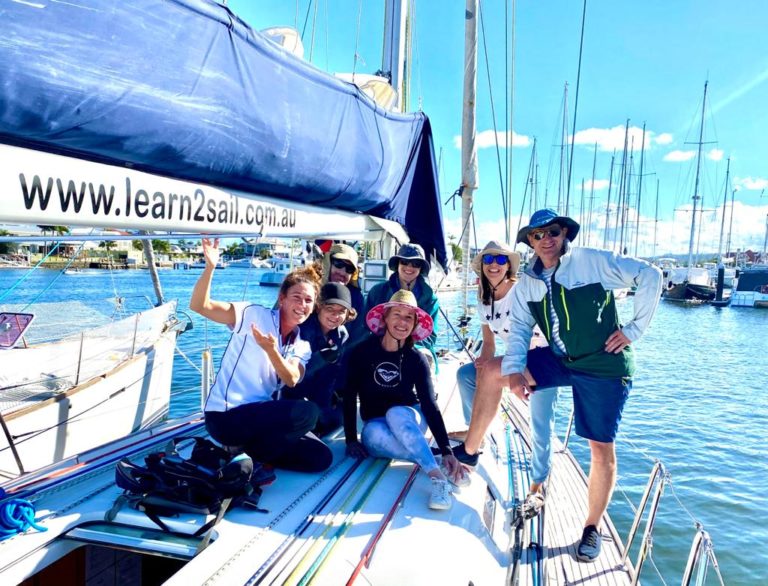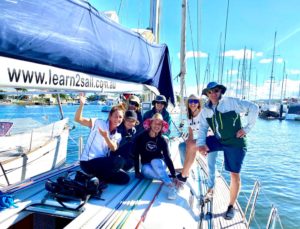 The Competent Crew course introduces the complete beginner to cruising and teaches personal safety, seamanship and helmsmanship to the level required to be a useful member of crew of a cruising yacht.
Knowledge of sea terms and parts of a boat, her rigging and sails
Sail Handling
Ropework
Fire precautions and fighting
Personal safety equipment
Man overboard
Emergency equipment
Manners and customs
Rules of the road
Dinghies
Meteorology
Seasickness
Helmsmanship and sailing
Living onboard throughout the course, each night is spent in a new place, allowing you to experience the delights of a real cruise. You will visit many of the quiet bays, anchorages and yacht harbour's of Moreton Bay, Southeast corner of Queensland or the Whitsundays (depending on chosen course) and in the evenings there is time to relax and reflect on the events of the day.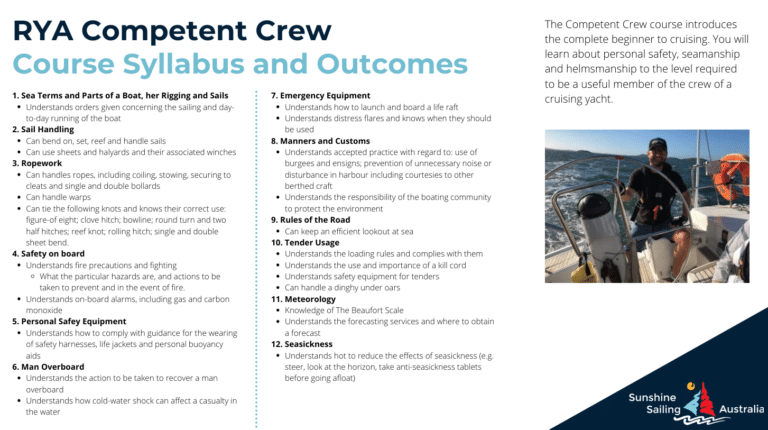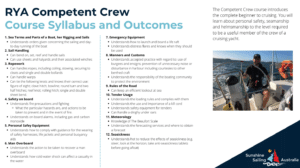 Download the complete RYA Competent Crew Syllabus
Whether you have a desire to sail a monohull or a catamaran we have you covered. You have the option of deciding to be on either vessel when choosing your training dates.
Cruising Yacht (Beneteau First 44.7)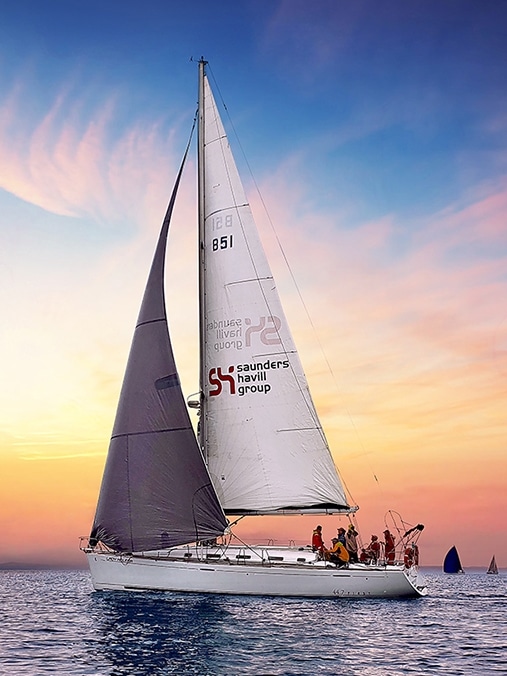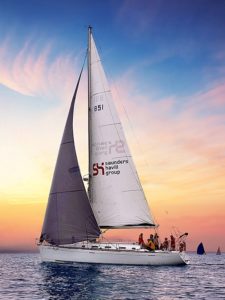 The Beneteau First 44.7 is the monohull training vessel in our fleet. A modern racing and cruising vessel the Beneteau First 44.7 provides a good balance of comfort and performance.
Cruising Catamaran (Lagoon 380)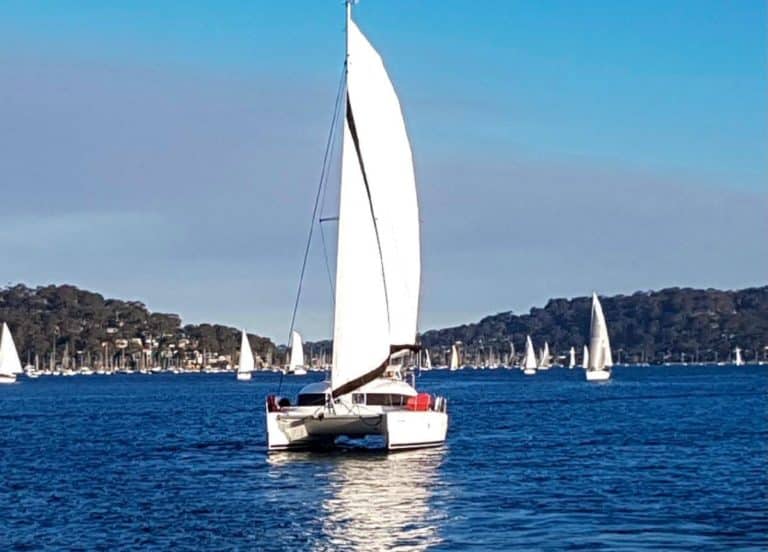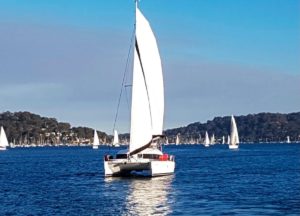 The Lagoon 380 is the catamaran training option in our fleet. Boasting 4 double berths down below, and a kitchen up design. If you imagine yourself sailing on a catamaran then choose this vessel to complete training on.
Read more about our training vessels here: Our Fleet (opens in new tab)
What Qualification Do I Get?
The RYA Competent Crew certificate will be issued at the end of the course, indicating that you are a competent member of crew on board a sailing vessel.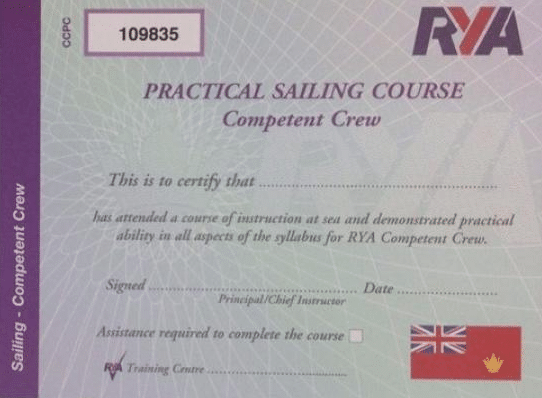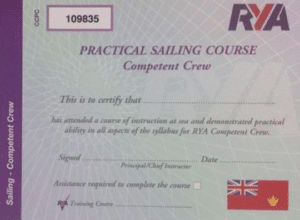 Accommodation: Accommodation is on board our yachts as you spend time out sailing the beautiful locations that we frequent.
Food and Dietary: Food is included in the price of the course, aside from one evening meal ashore at a local yacht club or restaurant. We will accommodate your dietary preferences including gluten free, vegan/vegetarian, lactose free, etc. You will receive a link to nominate your dietary preferences shortly after booking in for the course.
What to Pack: We will be in touch with an easy to follow checklist to ensure you have everything you need on the day, but to give you a bit of an idea bring a hat, sunglasses, sunscreen, bathing suit, a warm jumper, change of clothes (minimal wardrobe needed), spray jacket. Be sure to pack this in a flexible soft bag.
Courses start from the stunning south east Queesnland locations of both the Sunshine Coast and the Gold Coast. These courses frequently move through Moreton Bay and Brisbane during the duration of the course.
Courses with a start date in August and September start at Hamilton Island or Airlie Beach in the spectacular Whitsundays.
Simply check the location when you are selecting your date in the booking form.
Pro Instructors
We constantly strive to recruit and develop the most experienced and professional instructors. We expect our instructors to not only guide you through the course syllabus, but to do this in a way that meets your learning style, and to always go above the minimum requirements of the course.
Perfect Locations
Our training locations are chosen to provide you with a broad opportunity of learning experiences on the water. All of our locations have access to open ocean, busy waterways, and a range of different learning opprotunities.
Expert Advice
The team at Sunshine Sailing Australia are here to talk to you. Whether you are a recreational sailor, or someone who would like to enter the commercial superyacht industry, our team is always up for a friendly chat. We can assess your needs and will help guide you down the path that suits your experience and goals.
FAQ's
Is accommodation provided or do I need to provide my own accommodation?
Accommodation is provided onboard the vessel for all liveaboard courses. The training vessels have ample comfortable accommodations on board. Couples will be provided with their own cabin and double berth. Individual participants may be provided with their own cabin or be in a shared cabin depending on the ratio of the course.
Is food provided and do you accommodate dietary preferences?
Yes, we provide all food onboard for the duration of the course. After registering, you will be asked for your dietary preferences so we can accommodate those. We can accommodate students who are vegetarian, vegan, gluten/dairy free, etc.
COVID-19
We recommend taking out travel insurance to cover you against any impacts of  COVID-19 on your ability to attend a course. If you are required to isolate or quarantine due to COVID-19 infection and that interferes with your course dates, we will not be able to provide a credit unless we are able to fill your spot at short notice. Therefore, you may like to have insurance in place to cover you against this unlikely, but unfortunate event.
While it is highly unlikely, in the event that we need to reschedule a course due to COVID-19 affecting out ability to run a course for any reason, we will reschedule your course at no cost. The health and safety of our clients and staff is our top priority. We we will not be liable for any additional costs born out of needing to reschedule the course.
You are the captain of your journey, and we're here to make that voyage as smooth sailing as possible. Our friendly team is ready at any time for a question you might have about this course, or which training plan will work best with what you want out of your time on the water. Please touch base with any questions you may have.
Kim Balmanno course completed 22nd December 2021
El Condor Randall course completed 8th December 2021
Chad Kemp course completed 12th November 2021
Ange course completed 11th February 2021
I throughly enjoyed completing the Competent Crew Course with John. It was a fantastic experience.
Deb and Van course completed 19th May 2019
I would like to especially thank James as he was so willing to impart his knowledge and was always encouraging and understanding of everyones individual abilities. His kind and considerate manner really put me at ease and ensured my first sailing adventure was an enjoyable experience. This course exceeded our expectations.
Richard & Nadeia Romanowski course completed 15th September 2018
'…a learn-to-sail experience that was also an enjoyable adventure holiday… it provided us with a superb preparation to crew a sailing boat competently… Plus the sailing was accompanied by whales, dolphins, turtles and eagles.'
Lin & Brian course completed 18th May 2018
'Many thanks from two over 60's who were sailing virgins but now have their own 34 footer! . "RYA Competent Crew" was fun and SAFE, a great introduction and your ongoing help and advice are invaluable – looking forward to more courses as we really get up and running.'
Scott and Almasa course completed 10th March 2017
'Challenged just in and around comfort zone, never for a moment felt in danger or intimidated, vegetarians well looked after, reliable yacht, plentiful crew, great instructor.'