RYA Day Skipper - Yacht or Catamaran
The RYA Day Skipper and Bare Boat practical course is designed to teach you essential practical skippering and sailing techniques. Completion of this course gives you an internationally recognized qualification for bare boat chartering.
In this course, you will navigate and take control of a yacht on a short passage under the guidance of a highly qualified instructor to ensure that your first, perhaps hesitant, steps as a skipper are taken in safety.
As a skipper you must be completely responsible for the management of a yacht. Thus, the syllabus of this course also includes chartwork, electronic navigation, meteorology, basic engine checks, passage planning, preparing the yacht for sea, and rules of the road. In addition, night sailing is undertaken to give you a taste of pilotage in the dark.
COURSE DETAILS
Course Duration: 5 Days
Start and Finish Times: Start at 9:30am on the first day, and finish by 4:30pm on the last day of the course.
Minimum Age: 16 years
Course Format: On the water, on either a yacht or catamaran.
Prerequisites: A basic ability in practical sailing. A minimum of 5 days, 100 miles and 4 night hours onboard a sailing yacht. Navigation and theory to the RYA Day Skipper Shorebased level.
By the end of this course, the successful Day Skipper will feel confident to undertake shorter passages over a 24-hour period in familiar waterss. Successful completion means that you can charter a yacht worldwide with confidence.
What Will I Learn? (Course Syllabus)
Whilst at sea, your instructor will cover subjects such as watch keeping, deck work, sail trim and how to cope in emergency situations. You will also be given opportunities to practice your boat handling in a variety of mooring situations.
What will I learn?
Preparation for Sea
Navigation
Pilotage
Meteorology
Rules of the Road
Maintenance
Engine
Radio Operation
Victualling
Handling Under Motor and Power
plus much more
Whether you have a desire to sail a monohull or a catamaran we have you covered. You have the option of deciding to be on either vessel when choosing your training dates.
Cruising Yacht (Beneteau First 44.7)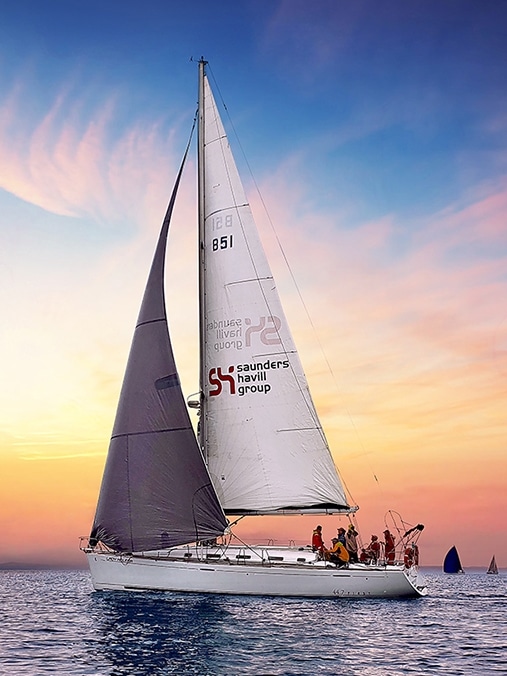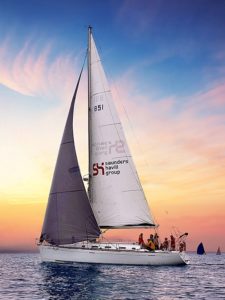 The Beneteau First 44.7 is the monohull training vessel in our fleet. A modern racing and cruising vessel the Beneteau First 44.7 provides a good balance of comfort and performance.
Cruising Catamaran (Lagoon 380)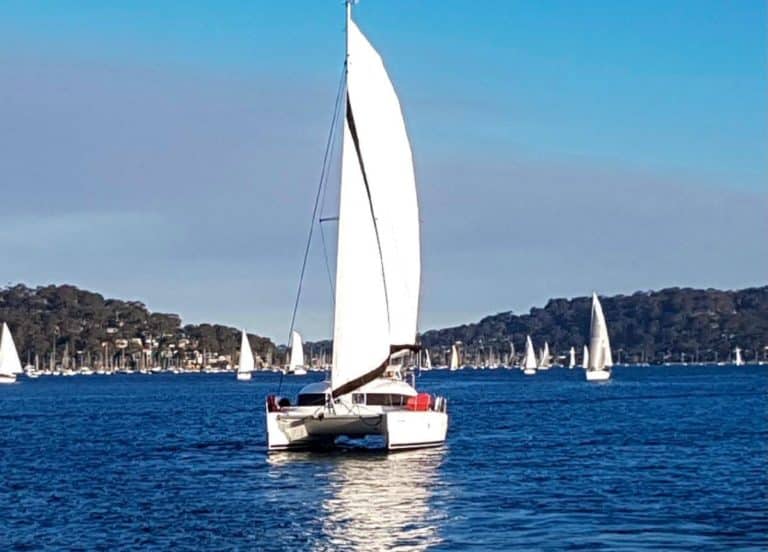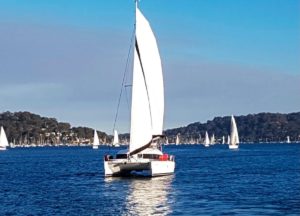 The Lagoon 380 is the catamaran training option in our fleet. Boasting 4 double berths down below, and a kitchen up design. If you imagine yourself sailing on a catamaran then choose this vessel to complete training on.
Read more about our training vessels here: Our Fleet (opens in new tab)
This is a 5-day practical course, starting at 9:30am on the first day and continuing the following 4-days for a total of five days on the water. This is a liveaboard course, which includes food and accommodation.
We will be in touch with an easy to follow checklist to ensure you have everything you need on the day, but to give you a bit of an idea bring a hat, sunglasses, sunscreen, bathing suit, a warm jumper, change of clothes (minimal wardrobe needed), spray jacket. Be sure to pack this in a flexible soft bag.
Upon successful completetion of the course, you will recevie the RYA Day Skipper certificate. Please make sure you bring along a passport size photo for your certificate.
All meals are provided. We will send a request for special dietary needs requests in the lead up to the course. We can easily accommodate for any dietary requirements.
What Qualification Do I Get?
Upon successfully demonstrating your competence at the level of Day Skipper you will be issued with the RYA Day Skipper Certificate, and will also qualify for an International Certificate of Competence (ICC).
Pro Instructors
We constantly strive to recruit and develop the most experienced and professional instructors. We expect our instructors to not only guide you through the course syllabus, but to do this in a way that meets your learning style, and to always go above the minimum requirements of the course.
Perfect Locations
Our training locations are chosen to provide you with a broad opportunity of learning experiences on the water. All of our locations have access to open ocean, busy waterways, and a range of different learning opprotunities.
Expert Advice
The team at Sunshine Sailing Australia are here to talk to you. Whether you are a recreational sailor, or someone who would like to enter the commercial superyacht industry, our team is always up for a friendly chat. We can assess your needs and will help guide you down the path that suits your experience and goals.
FAQ's
Is accommodation provided or do I need to provide my own accommodation?
Accommodation is provided onboard the vessel for all liveaboard courses. The training vessels have ample comfortable accommodations on board. Couples will be provided with their own cabin and double berth. Individual participants may be provided with their own cabin or be in a shared cabin depending on the ratio of the course.
Is food provided and do you accommodate dietary preferences?
Yes, we provide all food onboard for the duration of the course. After registering, you will be asked for your dietary preferences so we can accommodate those. We can accommodate students who are vegetarian, vegan, gluten/dairy free, etc.
COVID-19
We recommend taking out travel insurance to cover you against any impacts of  COVID-19 on your ability to attend a course. If you are required to isolate or quarantine due to COVID-19 infection and that interferes with your course dates, we will not be able to provide a credit unless we are able to fill your spot at short notice. Therefore, you may like to have insurance in place to cover you against this unlikely, but unfortunate event.
While it is highly unlikely, in the event that we need to reschedule a course due to COVID-19 affecting out ability to run a course for any reason, we will reschedule your course at no cost. The health and safety of our clients and staff is our top priority. We we will not be liable for any additional costs born out of needing to reschedule the course.
You are the captain of your journey, and we're here to make that voyage as smooth sailing as possible. Our friendly team is ready at any time for a question you might have about this course, or which training plan will work best with what you want out of your time on the water. Please touch base with any questions you may have.
David and Sarah course completed 31st July 2021
Peter was a great teacher. He is calm, pati ent and has an excellent manner about him that makes it easy to understand and learn sailing. He quizzed us on the syllabus throughout the days he made it fun. We Liked his flashcards :-). We enjoyed the tasks/exercises he got us to do; it cemented what we knew over The five days. We took loads of photos, which I will send through during the week. Thank you for giving us a great experience and our confidence and knowledge has grown so much.
Helen of Mooloolaba course completed 2nd April 2021
Piers was brilliant, confidence building, great teacher and patient, cannot sing his praises enough. I felt totally safe and looked after at all times. Think you have it all covered nicely. Especially lucky to have such a great Capt Piers to teach us and professionally look after us at all times, Helen of Mooloolaba
Darren Papalexion course completed 4th February 2018
I had a fantastic time sailing with Skipper & Instructor Jay who taught me about sail handling on our passages from Mooloolaba to Yeppoon and then on to Hamilton Island and the Whitsundays. Also a shout out to Carl & John who I sailed with during Hamilton Island Race Week. Great Adventures were had by myself and the rest of the crew.