Course Overview - Classroom or Online (Self-Paced)
The RYA Coastal Skipper and Yachtmaster Offshore Theory course is an advanced course in navigation, meteorology, vessel and crew management for longer coastal and offshore passages. We assume that you are already qualified as an RYA Day Skipper (or equivalent knowledge). There is some time set aside for revision of subjects covered in the Day Skipper course though you should arrive with a good understanding of the essentials.
Course Details
Course Duration: 5 Days + an examination day which can be completed when you're ready. The exam is not essential to acquiring skills and knowledge and is only required if you want to use this qualification for commercial purposes.
Start and Finish Times: Start at 9:30am and finish by approximately 5:00pm each day.
Minimum Age: There is no minimum age.
Course Format: Classroom or Online (Self-Paced)
Prerequisites: The RYA Day Skipper Shorebased (Theory) course, or equivalent knowledge.
Course Booking
Who is this course designed for?
The course is designed for those who wish to improve their navigation and meteorology knowledge for recreational sailing, or to take the RYA Yachtmaster Certificate of Competence for either Coastal or Offshore.
What will this course enable you to do?
This course enables you to effectively plan coastal and offshore passages that would take over 24 hours to undertake.
By the time you finish this theory course you will have the knowledge and confidence required to effectively appraise, plan, execute and monitor your progress on longer coastal and offshore passages as you head out on the water recreationally or commercially.
Course Content (Syllabus)
Throughout the course, you will cover the following topics in advanced detail:
1. Position
2. The Magnettic Compass
3. Tides
4. Tidal Streams
5. Buoyage
6. Lights
7. Pilotage
8. GNSS and Chart Plotters
9. Echo Sounders
10. Logs (Speed and Distance Measuring)
11. Deck Log
12. Meteorology
13. Rules of the Road
14. Safety at Sea
15. Navigation in Restricted Visibility
16. Passage Planning
17. Marine Environment
What Qualifications Do You Receive?
The RYA Coastal Certificate and Yachtmaster Offshore Theory certificate upon successfully passing the exam. The RYA is the worlds largest and most well-regarded sail training organisation. The qualifications obtained through RYA training can be used commercially around the world, speaking to the quality of the training courses.
Pro Instructors
We constantly strive to recruit and develop the most experienced and professional instructors. We expect our instructors to not only guide you through the course syllabus, but to do this in a way that meets your learning style, and to always go above the minimum requirements of the course.
Perfect Locations
Our training locations are chosen to provide you with a broad opportunity of learning experiences on the water. All of our locations have access to open ocean, busy waterways, and a range of different learning opprotunities.
Expert Advice
The team at Sunshine Sailing Australia are here to talk to you. Whether you are a recreational sailor, or someone who would like to enter the commercial superyacht industry, our team is always up for a friendly chat. We can assess your needs and will help guide you down the path that suits your experience and goals.
You are the captain of your journey, and we're here to make that voyage as smooth sailing as possible. Our friendly team is ready at any time for a question you might have about this course, or which training plan will work best with what you want out of your time on the water. Please touch base with any questions you may have.
To keep growing your sailing skills we recommend the RYA Coastal Skipper – Practical as your next port of call.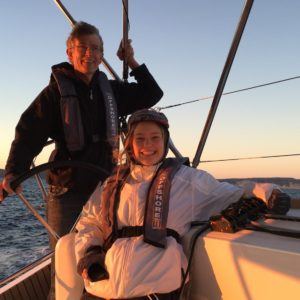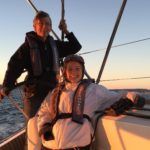 Advanced skippering techniques for yachtsmen and women with considerable knowledge of sailing and navigation, wanting to undertake coastal passages by day and night.
Tony Stockton course completed 5th June 2021
Exceptional instructors and very professional staff. I cannot give them a stronger recommendation! I've just finished the Coastal Skipper theory course and was very pleasantly astonished at the level of knowledge and the skill of instruction. Carl was very patient and very thorough. I've already signed myself up for the Coastal Skipper practical course in June and I can't wait!!
David Wood course completed 28th November 2020
I cannot speak highly enough of my RYA skippers course at the Sunshine Sailing Australia. I loved it and I learnt so much from it. As a sailor as a youth, some 35 years ago, I had much to learn and I learnt alot. I can highly recommend John Bankart and his instructors, they are great, great people, great skills, great course.