Sunshine Sailing Australia's Yachtmaster Offshore Fast Track offers you a reliable and direct route to the RYA/MCA Yachtmaster Offshore qualification.
In this program, you will spend 12 weeks immersed in exciting, supportive and in-depth training and adventures. The qualification and certificate you will earn is valid for use as Master of yachts of up to 200GT on commercial and privately registered yachts. In addition, the certificate is a benchmark around the world for commercial skippers and is essential for professional yachting. Whether you are an experienced sailor, a beginner, planning a career in sailing, or achieving a personal goal, this thorough RYA Yachtmaster Fast Track is for you.
Course Objectives and Outcomes
The course is designed for those aspiring to the RYA/MCA Yachtmaster Offshore level of competence. This program will give you the experience, miles and qualifications to gain your commercial endorsement for the MCA Master of Yachts 200GT up to 24m. When you're done, you can cruise the world as a paid skipper in the Superyacht industry, or cruise the world on your own yacht with the confidence and capability of an Offshore Yachtmaster.
RYA Yachtmaster Qualification
At the end of this course, you will be examined for the RYA Yachtmaster Offshore certificate of competence. In addition, you will gain the required supporting qualifications and miles to work as a paid skipper around the world.
RYA Certificates of Competence are some of the most useful and credible of all yachting qualifications. They thoroughly test the skipper's ability and give you a new level of confidence in your capabilities.
The RYA Yachtmaster Fast Track Course Inclusions
2 days developing sailing skills on J24 keelboats
Yacht Maintenance, Rigging and Sail Making experience
Mile Builders on the East Coast of Australia
Spinnaker Handling Course
Yachtmaster Exam Preparation
RYA Yachtmaster Offshore Examination
52 days on your logbook* see conditions
7000 miles logged* see conditions
60 night hours* see conditions
Conditions:
Whilst unlikely, due to the unpredictability of weather systems there may be courses that need postponing. In this situation, you may be required to extend your dates slightly to ensure you meet all the requirements.
Training Locations
Our sailing areas include the Sunshine Coast, Brisbane, Moreton Bay, Fraser Island, Great Sandy Straits, and the Whitsunday Islands of the Great Barrier Reef. An excellent base for Yachtmaster training, these areas provide ideal conditions: perfect winds, warm tidal waters, busy shipping lanes and a wide variety of interesting sailing passages. With exotic destinations, these are some of the best sailing grounds in the world!
RYA Yachtmaster Offshore Fast Track – 24th September to 24th December 2021
The next course begins on the 24th of September 2021 and finishes with the Yachtmaster examination between the 22nd and 24th of December 2021. As a participant you will enjoy completing the course in a variety of stunning locations including the Whitsundays, Hamilton Island, Mooloolaba, Moreton Bay and the Gold Coast.
Courses and Dates:
Induction, Orientation and Briefing Day – 24th of September
RYA Competent Crew – 25th to 29th of September
Keelboat Helming Skills Course – 1st and 2nd of October
RYA Day Skipper Theory – 4th to 8th of October
RYA Day Skipper Practical – 11th to 15th of October
Radio – 20th of October
Safety and Sea Survival – 21st and 22nd of October
Diesel Engine – 23rd of October
RADAR – 24th of October
Yacht Maintenance – 27th of October
Yacht Rigging – 28th of October
Sail Making – 29th of October
RYA Coastal Skipper and Yachtmaster Offshore Theory – 1st to 5th of November
Mile Building and Skills Practice – 8th to 12th of November
RYA Powerboat Level 2 – 15th and 16th of November
Mile Building and Skills Practice – 18th to 28th of November
Mile Building and Skills Practice – 1st to 14th of December
YM Exam Preparation Week – 17th to 21st of December
YM Exams – 22nd to 24th of December
RYA Essential Navigation and Seamanship – online prior to the 24th of September. Course access will be sent immediately following Fast Track course registration.
First Aid – Date to be advised
International Certificate of Competent – certificate will be issued as part of the Yachtmaster Fast Track course
The theory syllabus:
During the courses classroom based theory components you will cover a broad range of topics, including the following:
Passage planning
GPS and electronic aids
Vessel stability
Meteorology
Advanced navigation and chartwork
Tidal heights and streams
Safety equipment and procedures
Collision Regulations (IRPCS)
And much more….
Practical training:
Whilst having fun on the water with your instructor you will cover advanced techniques including the following:
Sail trimming
Boat handling under sail and power
Port entry and pilotage
Passage planning
Crew management
Safety and emergency drills
Spinnaker handling
Navigation
Skippered passages
Watch keeping
Blind Navigation
And much more…
In addition, we want you to be capable of maintaining a yacht. Thus, mechanical and electronic boat systems training is continuously provided throughout the course.
Build-Your-Own RYA Yachtmaster Fast Track Course (optional)
If the Fast Track program isn't for you, that's ok! Please enquire if you would like to achieve the Yachtmaster Coastal or Offshore qualification over a longer period, or on different dates to the scheduled Fast Track. We will construct a schedule that meets your needs and takes into account your existing experience.
The Yachtmaster Training Vessels and Personnel
Your Fast Track course will be on board our spacious and luxurious Beneteau First 44.7, in full AMSA 2C survey. Only five students are enrolled on each course and all courses are run by an experienced and fully qualified RYA approved instructor. This helps to ensure the highest level of instruction is available to each individual.
Over the duration of the fast track course there will be many days when you are living aboard the training yacht. On those days you can leave any excess gear in our storage facilities. There are also some days when you will not be living aboard the training vessel. The dates when you will need your own accommodation are listed below followed by some accommodation suggestions:
29th of September to 11th of October
15th of October to 8th of November
12th of November to 18th of November
28th of November to 1st of December
15th of December to 17th of December
Accommodation Options
Local Hotels
There is plenty of accommodation options nearby. Mooloolaba is a tourism destination, with options ranging from luxury hotels to bed and breakfasts accomodations.
Staying aboard at the marina
You also have the option to continue living aboard the yacht in the marina. The cost is $55 per night to liveaboard. This includes access to the marina showers and facilities, washing machines, and our offices for practicing and reviewing course content. Total cost to liveaboard for the duration of the course is $2,585.
Career Opportunities and What To Do Next
The Yachtmaster Offshore certificate of competence allows you to skipper commercial vessels around the world. You may find work in any of the following professions:
Superyacht deck and skippering
Yacht delivery
Private skippering
Commercial sail vessel master
RYA Instructor
and more
Becoming an RYA Instructor
After completing your RYA Yachtmater Offshore Certificate of Competence with a commercial endorsement, you will be able to undertake the first stage of RYA Instructor training, the RYA Cruising Instructor course. Upon successful completion of the Cruising Instructor training, you will be able to deliver RYA Start Yachting, RYA Competent Crew, and RYA Day Skipper Practical training with an accredited RYA school, such as Sunshine Sailing Australia. If you are interested in this, please talk to us about potential career opportunities. We are always looking for high quality instructors.
To keep growing your sailing skills we recommend the RYA Cruising Instructor Training as your next port of call.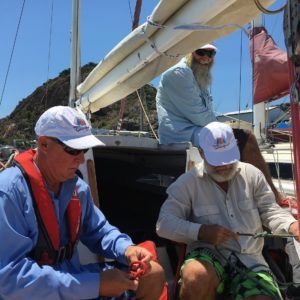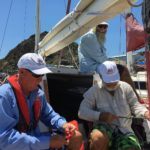 The first step in teaching within the practical cruising scheme is to become qualified as an RYA Cruising Instructor.
Sacha Berlinguette-Chabot course completed 7th April 2019
Great sailing school! Did a RYA Fast track up to Coastal Skipper and feel I've gained relevant and useful skill for safe and fun sailing. John and Carl and the team of instructors are very helpful in helping out toward your success and getting confidence in your theoretical and practical skill. Would do again in an heartbeat.
Terry Silk course completed 9th March 2018
Recently I had the pleasure of completing my RYA training with the Sunshine Sailing Australia (SSA). John Bankart, the proprietor of SSA… proved to be everything that I expected from a professional instructor whose skills were up to the high standards of RYA…I readily recommend Sunshine Sailing Australia to people seeking a highly qualified and professional sail training establishment.
Chris Prewitt course completed 21st September 2018
The Fastrack course was fantastic, not only did we learn so much, but most importantly it was absolute fun! The way the program was put together from start to finish was perfect. Thanks again for all your help along the way.