Based in the beautiful blue waters of Mooloolaba, this is the first step on the Keelboat sailing pathway. This course introduces you to the basics of sailing on a small boat, including boat handling, safety, sailing theory, essential sailing terminology and rules, basic knots, tacking and gybing,  and man overboard recovery.
This course is suited to anyone who wants to start enjoying sailing in their local waters on small yachts.
During the course you will learn how to do the following as an effective member of crew on small yachts and keelboats:
How to prepare the yacht for sailing
How to set sails
How to tack & gybe
Understand the wind
Introduction to Rules of the Road
The Buoyage system
Basic knots; bowline, round turn and two half hitches and figure of eight
Safety equipment
How to use Winches
and much more
This course is held over two-days, starting at 9:30am and finishing by 4pm each day.
The most important part is the new skills, capability and confidence you will get from this course. As a result, you will feel comfortable to go sailing locally on a keelboat or small yacht and act as an effective member of crew. You will build new friendships and comraderie with your fellow crew on the course and in the future as you get more involved with sailing.
You will also be presented with the 'Start Crewing' certificate upon successful completion of your course.
This course is held during the day so bring:
sun protection (a hat, sunglasses, sunscreen),
a warm jumper in case it's cold,
a change of clothes if it's a wet day (minimal wardrobe needed),
and a spray jacket.
Be sure to pack this in a flexible soft bag.
There are no pre-requisites for this course, however if you would like to get started straight away and get even more out of your time on the water, we recommend registering for the RYA Essential Navigation and Seamanship (online) course.
Additional Courses You Might Require
In conjunction with this course you may need to complete the following short courses to ensure you are certified and safe on the water.
To keep growing your sailing skills we recommend the Keelboat – Start Helming as your next port of call.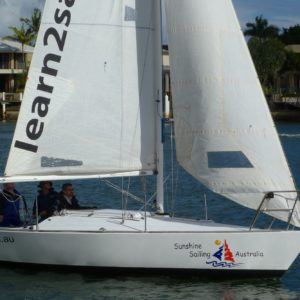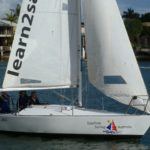 Course Dates and Booking This course develops both your theory and practical skills to confidently take control on the helm. This is perfect for those who wish to develop their sailing skills; helming, wind awareness, tacking and gybing. Preparation of the boat, helm and trim on all points of sail, recovery of man overboard whilst […]
Teraza course completed 14th December 2021
I just wanted to say thank you so much for the excellent weekend, I thoroughly enjoyed the course and was amazed that having never even been on a sail boat before, how much confidence I gained over the two days. Michael and Matt were both excellent instructors, I really enjoyed cleaning from Michael's incredible experience and Matt is a very impressive young man with a real gift for teaching. My sister Vanessa and I have found a new love in sailing and can't wait to get out there again.